ABOUT RESERVATIONS LARGE CABIN SMALL CABIN CONTACT


Small Cabins
Winter Rates
1,000/week or 3,500/month
Holiday (for the month of December): 1,200/week or 2,000/two weeks


(Beds: 1 Queen, 1 Double, 1 Single)
Summer Rates: $225.00 / night.

We ask for payment-in-full for a reservation of three nights or less,
a 50% deposit for reservations of 4 nights or more.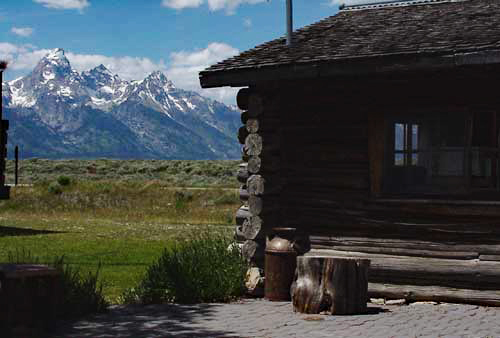 The small cabins are rented out as one unit, the front, historic cabin with a queen bed and kitchen, a secondary cabin built to house a bathroom, laundry room, as well as a second bedroom with bunkbeds.
Constructed in the '30s, this rustic cabin has wall to wall carpet and is furnished with lodge pole furniture. The front cabin contains a bedroom and kitchen. The bedroom includes a queen bed, chest-of-drawers, a rawhide lodge pole rocking chair, and an end table, all adding to the warm flavor of the old west. Provided in the kitchen area is a electric range and oven, microwave, refrigerator, dishware, lodge pole kitchen table with 2 lodge pole / rawhide chairs, a lodge pole bench, couch and all dishware. All furniture is handmade by the owners.
Anne Kent Cabins offers, along with the historic "front cabin," a second cabin which is a stone and frame three room structure. It contains a bedroom with a lodge pole bunk bed, double on the bottom, single on the top, sleeping three, as well as a full bath and laundry, detergent included. On the patio between the two cabins there is a propane barbeque and a picnic table. Behind the second cabin is a campfire pit. (Seasonal restrictions apply.) These two cabins will sleep a total of five and come as a package for $225.00/night.
We request final payment upon arrival. Check-out time is 11am and check-in time is from 4pm on. We offer non-smoking cabins only. There are no telephones in the cabins, however we do have a phone available if requested. We offer a portable television/VCR if requested. No pets please.