ABOUT RESERVATIONS LARGE CABIN SMALL CABIN CONTACT


Large Cabin
Winter Rates
1,200/week or 4,000/month (+$100/week or +$200/month for every person after first four)
Holiday(for the month of December): 1,500/week or 2,500/two weeks

(Beds: 1 Queen, 4 Doubles, 2 Singles)
Summer Rates: $275.00 / night for 4 guests and an additional $25.00 / night / guest.

We ask for payment-in-full for a reservation of three nights or less,
a 50% deposit for reservations of 4 nights or more.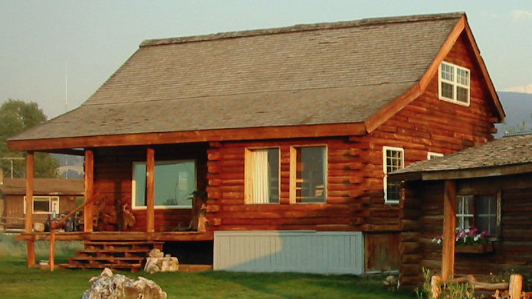 The larger log cabin includes a loft with a queen lodgepole bed as well as a child's bed. The ground floor offers a full bathroom, living room, dining room, kitchen with dishwasher, all dishware and linen.
The 3/4 basement offers three windows, two bedrooms a full bath and laundry. One bedroom holds two lodgepole bunk-beds with doubles on the bottom and top. The second bedroom offers a set of single bunk-beds, as well as laundry facilities and a full bathroom. There is carpeting throughout the cabin with a covered deck on the north side and an open deck on the south side. A propane barbeque is provided. The views are panoramic and spectacular.
We request final payment upon arrival. Check-out time is 11am and check-in time is from 4pm on. We offer non-smoking cabins only. There are no telephones in the cabins, however we do have a phone available if requested. We offer a portable television/VCR if requested. No pets please.