Anne Kent Cabins
Lodging
Jackson Hole Log Cabin Vacation Rentals
Grand Teton National Park Log Cabin Vacation Rentals
Family Owned and Operated
Located in Grand Teton National Park / Jackson Hole Wyoming
One Hour South of Yellowstone National Park
Historic Log Cabins
Rates Starting at $225.00/Night
1 307 733 4773
Land for Sale in Grand Teton National Park
Long Term Cabin rentals available from 1 Oct. to 30 May
O
Wake up in the morning with this view of the Grand Tetons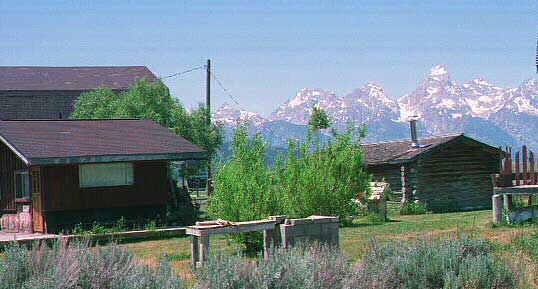 The Two Small Cabins Are Reserved as One Unit
Available Year Around
Family Owned & Operated Log Cabin Vacation Rentals
POB 3 Kelly, Wy. 83011 (Jackson Hole, Wyoming)
1 307 733 4773
Small Cabin (Beds: 1 Queen, 1 Double, 1 Single) Available Year Around
Large Cabin (Beds: 1 Queen, 4 Doubles, 2 Singles) available 1 June to 30 October
Our Fully Furnished Cabins can accommodate up to 17 guests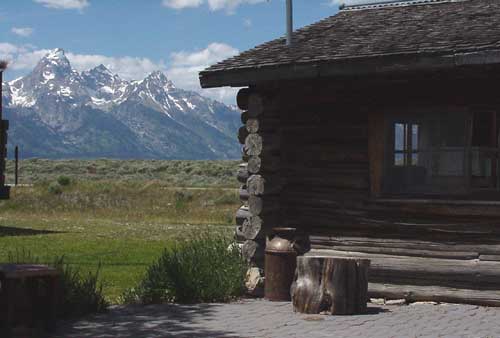 Rear View of Historic Small Log Cabin (3 beds, sleeps 5)
(circa. 1939)
Jackson Hole Wyoming Cabins - Anne Kent Cabins historic small log cabin, known as "the front cabin," is located in Jackson Hole, 20 minutes from the town of Jackson and is surrounded by Grand Teton National Park, Bridger Teton National Forest and the National Elk Refuge. One hour from Yellowstone National Park. Constructed in the '30s, this rustic cabin has wall to wall carpet and is furnished with lodge pole furniture. The front cabin contains a bedroom and kitchen. The bedroom includes a queen bed, chest-of-drawers, a rawhide lodge pole rocking chair, and an end table, all adding to the warm flavor of the old west. Provided in the kitchen area is a electric range and oven, microwave, refrigerator, dishware, lodge pole kitchen table with 2 lodge pole / rawhide chairs, a lodge pole bench, couch and all dishware. All furniture is handmade by the owners.
Jackson Hole Cabins - Anne Kent Cabins offers, along with the historic "front cabin," a second cabin which is a stone and frame three room structure. It contains a bedroom with a lodge pole bunk bed, double on the bottom, single on the top, sleeping three, as well as a full bath and laundry, detergent included. On the patio between the two cabins there is a propane barbeque and a picnic table. Behind the second cabin is a campfire pit. (Seasonal restrictions apply.) These two cabins will sleep a total of five and come as a package for $225.00/night.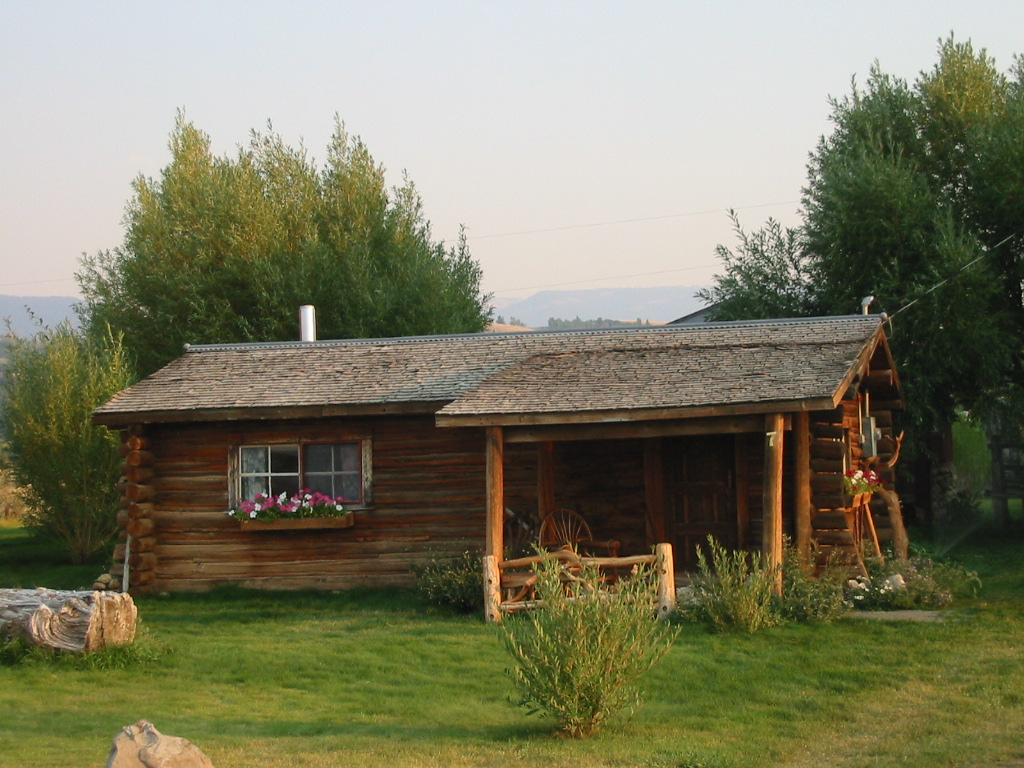 Front View of Historic Small Cabin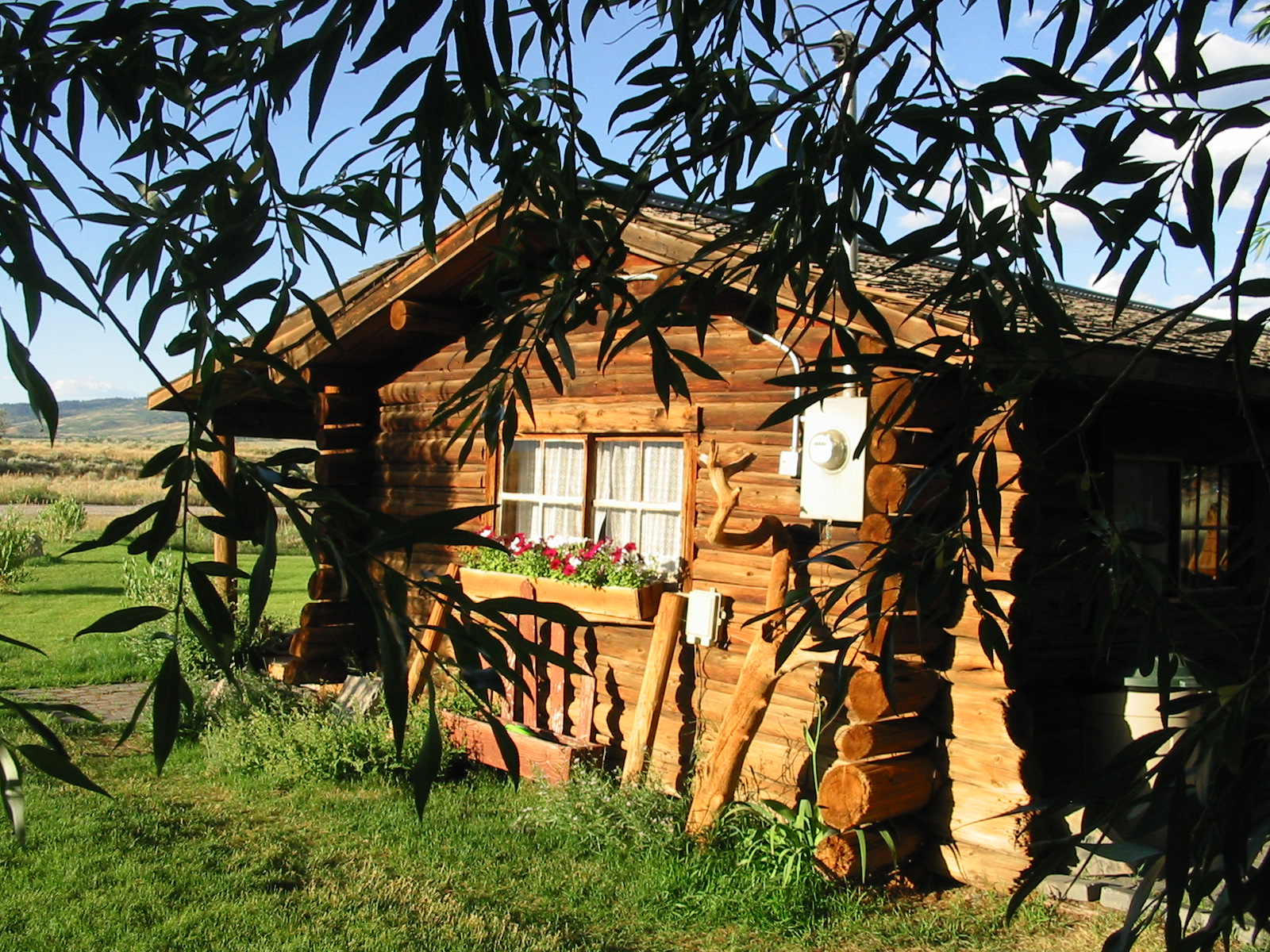 Side Views of Front and Rear Cabins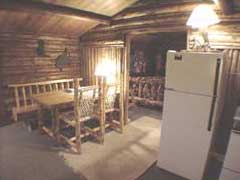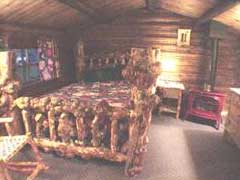 Bedroom and Kitchen of Front Cabin

Non-smoking cabins.


Accommodates up to 17 guests.


Fully equipped kitchens, furnished in handmade native lodgepole pine furniture.


Located in Jackson Hole and Grand Teton National Park.


Un-obstructed Panoramic view of the Grand Teton Mountain Range.


Fishing within walking distance on the Gros Ventre River.


Surrounded by Teton National Park, Bridger Teton National Forest, National Elk Refuge and wilderness.


One half hour from Snow King Ski Resort.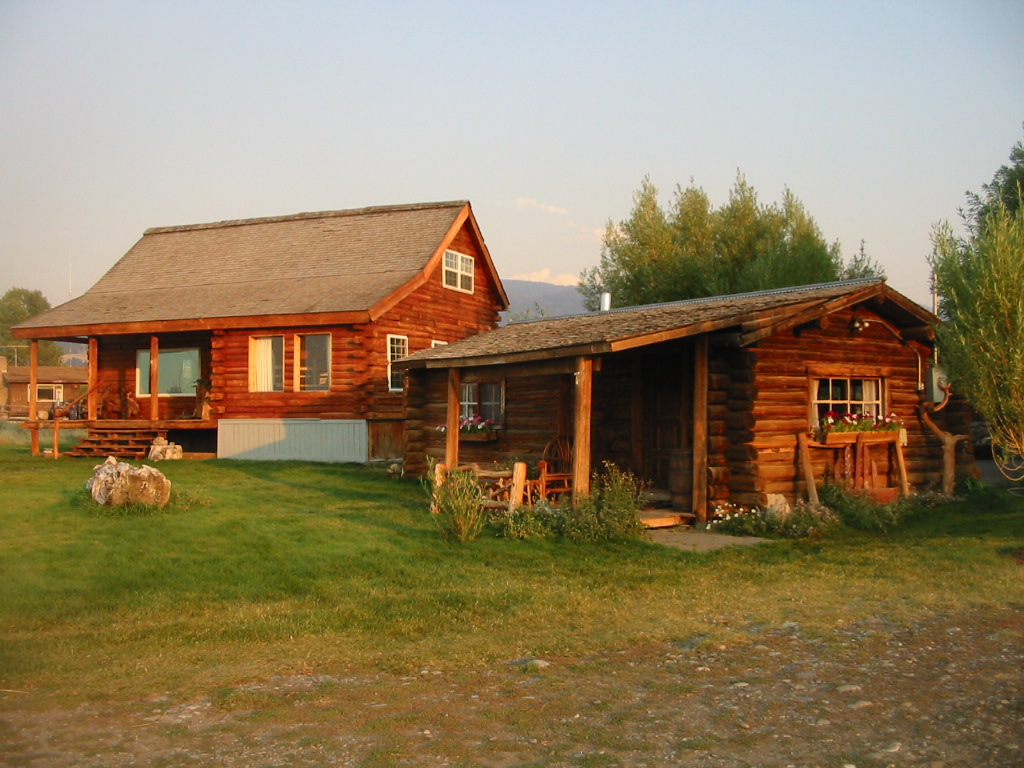 Front View of the Large Cabin and Small Cabin
The larger log cabin has all the same amenities as the smaller cabin to include a loft with a queen lodgepole bed as well as a child's bed. The ground floor offers a full bathroom, living room, dining room, kitchen with dishwasher, all dishware and linen.
The 3/4 basement offers three windows, two bedrooms a full bath and laundry. One bedroom offers 2 lodgepole bunk-beds with doubles on the bottom and top. The second bedroom offers a set of single bunk-beds, as well as laundry facilities and a full bathroom. There is carpeting throughout the cabin with a covered deck on the north side and an open deck on the south side. A propane barbeque is provided. The views are panoramic and spectacular.
Our cabins are rustic and not for everyone. There is all types of wildlife in Grand Teton National Park and Jackson Hole, everything from Buffalo. Elk, Deer, Eagles, Hawks, Antelope, Bears, Wolves, Cougars, Foxes, Weasels, Ground Squirrels, and more. They all come and go.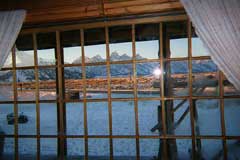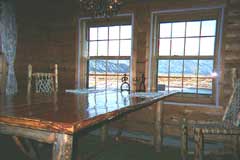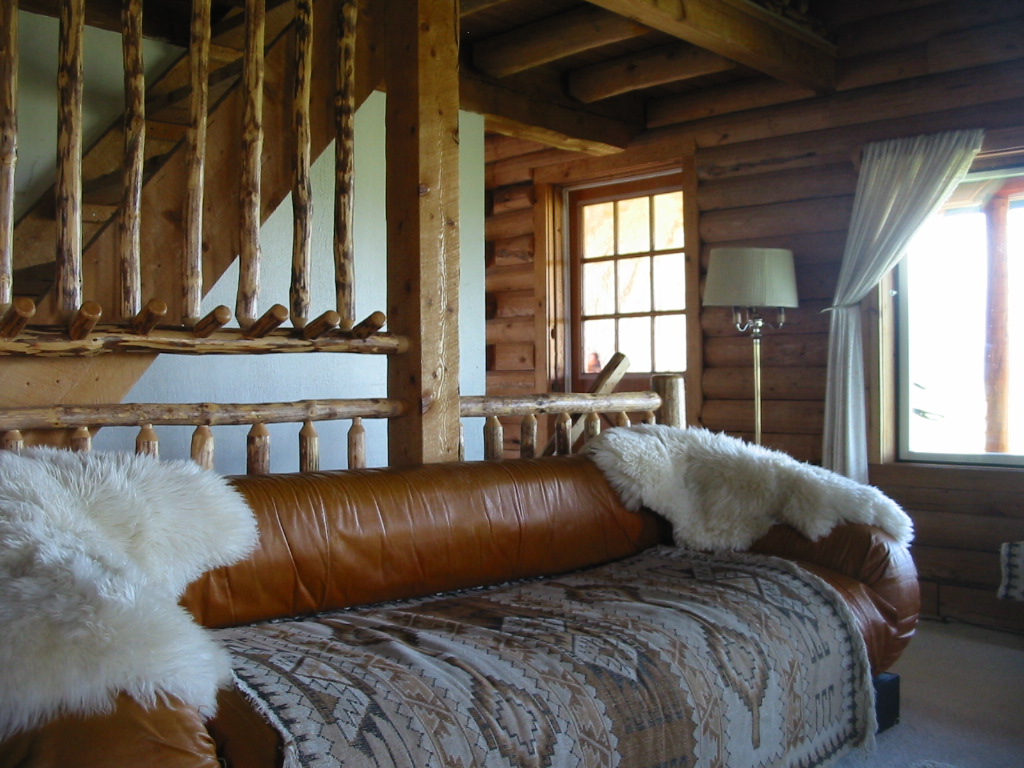 Views of Tetons from Living Room and Dining Room of Large Log Cabin
Rates: Jackson Hole Wyoming Cabins - Anne Kent Cabins - High Season Rates, June 1st to September 30th.
Large Cabin #8: $275.00 / night for 4 guests and an additional $25.00 / night / guest.
Small Cabins #7: $225.00 / night (two bedrooms, sleeps up to 5).
We ask for payment-in-full for a reservation of three nights or less.
We ask for a 50% deposit for reservations of 4 nights or more.
These cabins are rustic and offer a little of the old west and may not be for everyone.
Reservations: Jackson Hole Wyoming Cabins - Anne Kent Cabins - : Info@annekentcabins.com
To confirm reservations we require a 50% non-refundable deposit in the form of a check or money order. We request final payment upon arrival. Check-out time is 11am and check-in time is from 4pm on. We offer non-smoking cabins only. There are no telephones in the cabins, however we do have a phone available if requested. We offer a portable television/VCR if requested. No pets please. We are a 5th generation family owned-operated-business.
Cancellations:
If you need to cancel your reservations, we will refund your deposit when we can fill the vacancy.
Anne Kent Cabins is wholly owned and operated by Anne Kent Cabins LLC, a Wyoming Limited Liability Corporation.
Links:
Mill Iron Ranch, Offering: Horse Back Rides, Pack Trips, Breakfast, Lunch, Dinner, Live Music and Dancing.
Land for Sale in Jackson Hole Wyoming
Jackson Hole White Water Float Trips
Mountain View Hotels and Villas
The Hole Hiking Experience: Join a naturalist to connect to the landscape and participate with nature. Tours offered year around.Teton Mountain Bike Tours
Hotels in Munich Learn About The Best Spots & Places-To-Stay As Well As Tourist Information For A Convenient Stay In Munich.
Destination Nexus
Cape Town Waterfront Apartments
21 May 13
<iframe width="425" height="350" frameborder="0" scrolling="no" marginheight="0" marginwidth="0" src="http://maps.google.com/maps?hl=en-US&amp;q=Po+Box+3+Kelly+Wy+83011,Jackson+Hole+Wyoming%2FGrand+Teton+National+Park,WY,83011-0003&amp;ie=UTF8&amp;hq=&amp;hnear=Po+Box+3+Kelly+Wy+83011,Jackson+Hole+Wyoming%2FGrand+Teton+National+Park,WY,83011-0003,+United+States&amp;gl=us&amp;source=embed&amp;ll=37.0625,-95.677068&amp;spn=0.027277,0.054846&amp;z=14&amp;output=embed"></iframe><br /><small><a href="http://maps.google.com/maps?hl=en-US&amp;q=Po+Box+3+Kelly+Wy+83011,Jackson+Hole+Wyoming%2FGrand+Teton+National+Park,WY,83011-0003&amp;ie=UTF8&amp;hq=&amp;hnear=Po+Box+3+Kelly+Wy+83011,Jackson+Hole+Wyoming%2FGrand+Teton+National+Park,WY,83011-0003,+United+States&amp;gl=us&amp;source=embed&amp;ll=37.0625,-95.677068&amp;spn=0.027277,0.054846&amp;z=
<table border='0' cellpadding='0' cellspacing='0' style='width:468px;background-image: url(http://www.partypractical.com/images/reciprocal/badge_468x60.gif);' >
<tr><td style='width:200px;height:60px;background-color:transparent;'>&nbsp;</td><td style='vertical-align:middle;width:268px;padding:4px;background-color:transparent;'><a href="http://www.topweddingfavors.com/" style='color:#FFFDEC;font-size:10px;text-decoration:none;' title="Wedding Favors" id="mpp_badge_168_09/10/2010_0" >Wedding Favors</a> &nbsp;<a href="http://www.partypractical.com/vendors/party-supplies.html" style='color:#FFFDEC;font-size:10px;text-decoration:none;' title="Party Supplies" id="mpp_badge_148_09/10/2010_0" >Party Supplies</a> &nbsp;<a href="http://www.partypractical.com/search/vendor/Rentals/Jackson_find4221.html" style='color:#FFFDEC;font-size:10px;text-decoration:none;' title="Rentals in Jackson, WY" id="mpp_badge_0_09/10/2010_0" >Rentals in Jackson, WY</a> &nbsp;<a href="http://www.partypractical.com/search/vendor/Rentals/province_WY.html" style='color:#FFFDEC;font-size:10px;text-decoration:none;' title="Wyoming Rentals" id="mpp_badge_0_09/10/2010_0" >Wyoming Rentals</a> &nbsp;<a href="http://www.partypractical.com/search/vendor/Rentals/select_state.html" style='color:#FFFDEC;font-size:10px;text-decoration:none;' title="Rentals" id="mpp_badge_0_09/10/2010_0" >Rentals</a> &nbsp;</td></tr>
</table>

14" style="color:#0000FF;text-align:left">View Larger Map</a></small>Spider Map